8 Foot Ultrasonic Blind Cleaner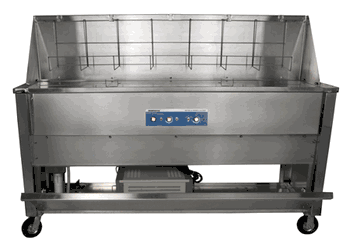 Sharpertek® Ultrasonic Blind Cleaner:
Start your own profitable blind cleaning business with our 8 foot ultrasonic blind cleaner. This is our best ultrasonic blind cleaner. It is large enough to clean several mini blinds at once, and long enough to fit virtually any sized blind. With this machine, you can thoroughly clean blinds in under 2 minutes (even with several blinds in the tank at the same time).
Features:
8 Foot Long Tank - long enough for virtually any kind of blind
2 Separate Tanks - one for cleaning and one for rinsing
Filtration system with power drain feature
2 Drain Pipes - one for each tank
Industrial-Grade Transducers: very reliable, efficient, and powerful
Durable 14 Gauge Stainless Steel Tank
Digital Timer for Controlling the Ultrasonic Power
Temperature-Controlled Heating
Sturdy Casters for Easy Transporting
Free Drying Equipment
Extended Tech Support Long After Purchase
2 Year Warranty
Specifications:
| | |
| --- | --- |
| Length of Tank: | 6 Feet (72 inches) |
| Tank Material | 14 Gauge Stainless Steel |
| Tank Dimensions: | 96" × 8" × 20" (L×W×H) |
| Unit Dimensions: | 100" × 25" × 40" (L×W×H) |
| Ultrasonic Frequency: | 40 kHz |
| Ultrasonic Power: | 2400 Watts |
| Heating Power: | 2000 Watts |
Ultrasonic Blind Cleaning Solutions:
Don't forget to purchase some Ultrasonic Blind Cleaning Solutions.
Want Something Else? We Can Customize the Machine for You:
We are the manufacturer of ultrasonic blind cleaners: There is no middle man, so you are getting these ultrasonic blind cleaners at the lowest possible prices! This also means we can custom-make one of these units to best fit your needs. Call us for more information.
Questions?
Call Sharpertek® and let us help you decide which mode of service is best for you: (248)-930-9653