STM5100 Ultrasonic Surgical Cleaner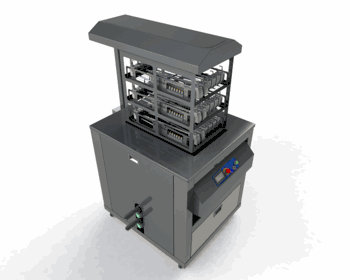 Product Description
Specifications
The SteraTekTM STM5100 is an ultrasonic cleaner with cannulated instrument irrigation system. The SteraTekTM has an automatic enzymatic dosing pump that can automatically adjust to any concentration that is set by the operator through the color touchscreen. The machine has an Ultraviolet UVc lamp for better infection control. The SteraTekTM has been third-party validated to clean the DaVinci SI and XI robotic instruments per AAMI TIR 30:2011 and ANSI/AAMI ST81:2004:2010.
The SteraTekTM uses TowWaveTM feature to operate the machine hands-free. Simply place your foot under the ToeWaveTM feature and the lift mechanism elevates the basket. The same action is used to lower the basket and initiate cycle start.
The SteraTekTM STM5100 is an ultrasonic cleaner with 40/135KHz CrossSonicsTM Technology. The 40KHz comes from the STRTM resonator that produces circumferential axisymmetric ultrasonic energy with a mechanical transient waveform. It is a far superior ultrasonic resonator when compared to other sonics' moiré effect and coverage. This technology insures that there are no dead spots in the tank as the ultrasonic energy is constantly propagating throughout the cleansed parts. The 135KHz insures that even the most minute particles are dislodged. CrossSonicsTM helps in instantaneous degas as well as ultra-fast cleaning times.
SteraTek™ STM5100
Single Tank Multi Tier
Specifications:
Type of Parts; Cannulated, Robotic and Non-Cannulated instruments
Ultrasonic Frequency: 40/135KHz CrossSonics™
Number of Irrigation ports per tank: 36
Robotic Instrument Capacity per tank: 36
Automatic Lumen Irrigation with Feedback Pressure Control.
Lumen Rinsing
Push/Pull Flushing
Enzymatic Cleaner Dosing
Air purge
Auto-Fill to temp
Auto-Drain
UVc Germicidal Lamp
Toe Wave Lift Mechanism
Horizontal Manifold Quick COnnect
Data logging via USB
Detergeant Sensor
HMI/PLC (controls + programming)
Tank Heat
Number of baskets included: 3